Heyy! It's the first issue and I'm excited about it. I hope you are too?
We are gifted people, You and I. We get to do this. We get to write. Always remember this.
---
Before we begin, you must know that the biggest single step you can take to becoming a better writer, is to write more often. Every day or two. Don't go for three days without writing.
And to write frequently, you need something to write about. This is where our lesson comes in:
The best thing for a writer to learn, is how to be still and pay attention, whether it's paying attention to the way people talk, behave or treat each other.
---
Writing Lesson of the Week: Richard Powers had gone to the Boston Museum of Fine Arts because admission was free until noon on Saturdays, and there it was — August Sander's 1914 black and white photo of three farm boys heading to a dance.
The photo haunted him. He saw an entire story in that old photo, and within 48 hours he'd quit his job and started writing his first novel; Three Farmers on Their Way to a Dance.
When pressed on his key to success, he gave one piece of advice. 'PAY ATTENTION'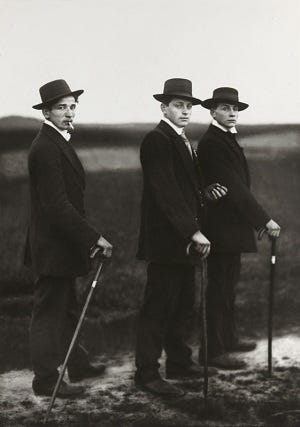 So how do you begin? By believing. Not in yourself because you're not (yet) good enough. You and I both suck at this. I'm asking you to believe in the world, that it will always present you with stories.
Everything is material — only if you're willing to pay attention.
Take a leaf from David who looked at the stars and wrote one of the greatest poems in history in Psalm 19.
The sky tells a great story of motion and beauty. The birds sing. People on the road are fascinating. Even Your feelings are scripts for an Oscar-winning screenplay. Immerse yourself in books and pay attention to how the author writes, the flow from scene to scene and the diversity of characters.
Everything around you is screaming stories, all you have to do is sign a publishing deal with them and share with others. Or be a thief. Steal from creation.
"Be present, practice attention, and the story you are working on will feed on everything in front of you" — Richard Powers
You don't have to write about everything but pay attention to what matters to you. What are people discussing? Why is the world the way it is? What are you angry about?
People will ignore your misgivings if you write relatable content.
Consume information in detail and your mind will do all the work for you. In time, everything will come together when you write. For Richard, it was his book "The Overstory".
And it all came together because of one moment of attention, that changed his life forever.
So how do you pay attention?
Breathe.

Be quiet.

Be patient.

Use all five senses.

Accept what you experience without judging it.
Then Record.
---
Weekly Challenge: Consciously pay attention to what's happening around and in you without interfering. Don't judge or block anything out.
After you've paid attention, write two sentences about it immediately on your notes app or paper. If you forget to pay attention, don't beat yourself up, just do it again intentionally. Every time you forget is a reminder to pay attention again.
For example: Passing along the streets today, I noticed the road was gridlocked while heavy drops of water banged against windscreens. I couldn't help but wonder if the environment determines our growth in life, as the rainy conditions determined the speed of all the cars.
Three Writing Prompts for inspiration:
How am I feeling at this moment? Don't try to be too cute. As you feel, write.

What does the environment smell like? Write a memory related to the scent.

What have I been fascinated about recently? Write like you are telling your friend about it.
Two Quotes I'm inspired by:
Pay attention. It's all about paying attention. Attention is vitality. It connects you with others. It makes you eager. Stay eager.
― Susan Sontag
Zen pretty much comes down to three things — everything changes; everything is connected; pay attention.'
— Jane Hirshfield
One Article you should read for further knowledge: Why you need to Pay Attention If you're a writer
From the community: Every week, we'll be featuring a fellow subscriber in this space with their twitter handle and email perhaps, so you can meet them. To be featured next week, send an email as regards your writing journey or an article you want us to read, or a question you have for the group/me.
This is a community of aspiring writers so whatever it is, share with us!
You can also use the #WritingwithAO on twitter to share your learnings, notes from the attention challenge, as well as meet other subscribers.
---
This is the end of today's newsletter. I hope you've gained something tangible from it. I'd love to hear from you. Accountability and support are key for growth and I'm completely here for you. Replying to this email is the fastest way to reach me.
Your writing Pal,
Ayomide.
---
Enjoyed this? Share with a friend.
PS: Was this shared to you? Subscribe below.
Don't forget to move this message to the primary inbox and mark as important, so you never miss an issue.