Lessons, Reviews and Community
Stories of progress over perfection
Hey! Have I mentioned how writing this newsletter every week has changed my life? I'm saying it again. It has and that's down to you for subscribing. Next month, we'll be moving on to the pillars of online writing. Total Game-changer.
As promised in the last letter, Today's lesson is from the community. A number of you sent in some reviews and I'm excited to share a few, along with the main piece. You can connect with them on Twitter by clicking their names.
---
First off is Oluwatumininu Adekunle on choosing progress over perfection:
Everyone wants to hit perfection, to strike the high notes of accuracy and flawlessness. To be the well-renowned doctor who everyone respects, the crazy artist that would be spoken of by generations yet to be born — the list goes on. 
While reading Walter Isaacson's 'biography of Steve Jobs', I was baffled by the man, the legend Steve Jobs. Steve was a man who aimed for perfection when it came to his products, down to the highest-quality screws to be used on components inside the computer.
He insisted on beautiful finishes inside, though only repairmen would ever see it. He even had his team sign on the motherboard of the Macintosh. Such perfectionism at play!
A perfect creator it seems, yet far from being a perfect person. 
In the early days of Apple, Jobs was a hippie who would go to important meetings, (including those with possible investors), barefooted and casually dressed. On occasions, he'd even place his legs on the table. He showered less because he believed his vegetarian diet ensured he wouldn't smell without bathing.
They had to hire Mike Scott as the first CEO to literally babysit and argue with him. He would argue and when he wasn't winning, he would scream and break into tears. He was such a quick-tempered boss. They gave people who could stand up to him awards. His team created a filtering system so when he called their work 'shit', they interpreted it as 'explain more' in their heads. A lot of people couldn't stand him. A few left, but the others that stayed, don't have regrets working with him. According to them, Steve helped them surpass their limits.
So maybe perfectionism isn't so bad then. Maybe. But being overwhelmed by perfectionism is. Trying so hard to be the perfect person. To be the perfect writer.
PS: 'To all the writers I've ever known, there's no such thing.'
Don't get me wrong. I'm not saying you shouldn't perfect your skills and be good. 
I'm saying focus more on working on those skills and you'll enjoy the journey to perfection. 
Why do you think a grand chef stands out more than the amateur even though it is still scrambled eggs they both would arrive at? The chef loves the food, down to the ingredients, to the cooking process. He pays attention to the tiniest of details. Every aspect of making that meal is joyous bliss. Even the excess that gets thrown away.
Geniuses may make mistakes, but their love for what they do is stronger than the need for perfection. 
Writing means a lot to me. It's my escape from overthinking and the worries of life.  But sharing my work is a constant worry. I always feel it needs to be perfect before publishing.
Joining this community has reminded me of my love for writing and built my confidence as a person first and as a writer. I realize now the articles and stories in my phone, or in the notes in my iPad, are not going to post themselves. And if I stay afraid forever, I might do nothing forever! Yes, I'm scared. Worried sick. What if I wreck this boat yet to set sail? What if I fail? Such an endless list of what-ifs! 
Pfft. But Failure is not in falling. Failure is in not attempting to rise and take those steps again - Not trying at all. Writing in itself isn't meant for perfect people or perfect words.
Your mistakes are the pieces that make you.

Manné
So this is my reality. I choose to enjoy the days when I have writer's block. I may make mistakes, stumble and fall in the process, but I will learn and enjoy my process. It is about every moment, every process you consider a lesson to be shared. I am deciding to focus on writing, not the fear of my imperfections.
For God hath not given us the spirit of fear, but of power, and of love, and of a sound mind.

2 Tim. 2:7, the Holy Bible (KJV)
Have I improved? I don't know entirely. I just know I'm learning. 
My goal is to become a great writer. To write books children would have fun yet learn from reading, to share poems that speak to people. To reach out to readers, even if it is just one person —with my words. I know I'll get there.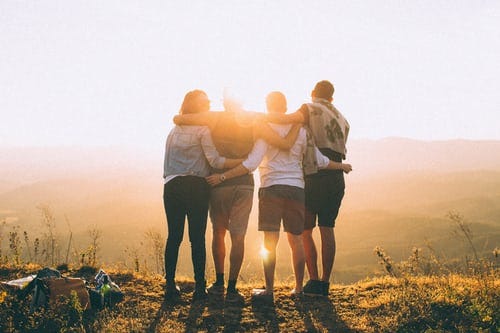 ---
Other Reviews from the community:
I've learnt a couple of things from the newsletter. 
The one I'll like to note is the need to be super intentional about writing. 
To write from my pain FOR my pain. Write from my joy FOR my joy. Write from my knowledge FOR my expertise. 
My writing is for me first. It should make sense to me and Heal me. Before I ask someone else to read or share it.
Nathan writes about marketing on his website
AJ:
I've learnt that Good writers write. Don't worry too much about it, just write and write consistently.
Find AJ's writing on her website
I guess a lot of people have said that they find writing therapeutic. Well, it's a cliche, but I find that when I write, I have the freedom to be myself. I'm not trying to impress anyone or be perfect. I just let the words flow from my mind to the page.
It started with keeping a journal and evolved into starting a blog.
I now share my articles and I have been blessed with positive feedback.
This is not to say that I don't work on getting better. I most certainly do. It's why I joined this writing community!
Writing for myself gives me the experience and knowledge to help others. It makes my article relatable and readers connect more.
Read as much as possible, pay attention to words usage and write as often as possible to be a better writer and as silly as it may sound, I just did a thorough study on the use of passive and active voice and I now have better understanding and usage.
Bisola Jegede
I loved the lesson on the power of three and the phrase 'Omne trium perfectum' is stuck in my heart forever.
I discovered that I made use of 'I think' whenever I wasn't sure of a statement or do not want its tone pronounced. In order to do away with the statement like you advised, I now make more research and own my statements with my chest!
I have also gotten better at storytelling. It was tough at first but I have learnt to not hide my vulnerability in my writing. This is because I'm definitely not the only person who has gone through what I have. Sincerity, honesty and vulnerability are one of those tools that help a writer create evergreen content.
---

I couldn't include all the reviews sent in for sake of length, but I saw it and It warms my heart. Next week, there's going to be a major announcement (I hope) as we take this newsletter up a notch. Don't miss it.
Till then.
Keep writing,
Ayomide.
---
If this letter was shared to you, you can join the community with the button below. Also, move this mail from 'promotions' tab to 'primary' inbox